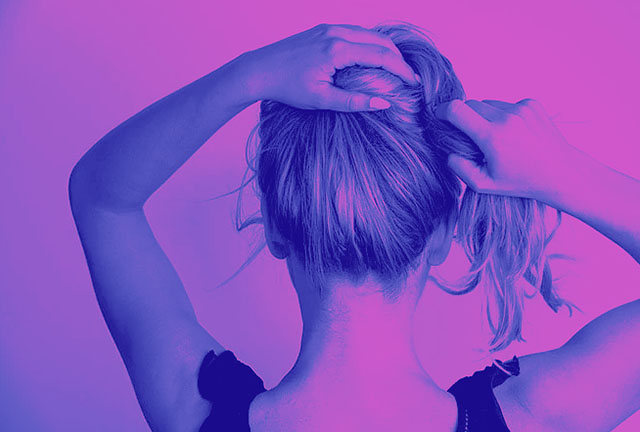 How Do You Take Care of Extensions?
Proper home care and maintenance are essential for increasing the longevity of your extension hair. Always use professional products that are sulfate/paraben-free and follow these steps to keep your extension hair healthy and beautiful.
WASHING: Wash your extensions 1-2 times a week with a sulfate/paraben-free shampoo. Separate your rows and use a gentle washing motion to ensure the weft line is thoroughly cleaned—avoid scrubbing. Be delicate when washing on top of the wefts then carefully squeeze suds through the extension hair. Follow with a light, hydrating conditioner. Treat hair with a deep conditioning mask weekly to hydrate and replenish moisture. Use a detox shampoo once every few weeks at the base of your extensions to help break down any residue along the weft line.
BRUSHING: Thoroughly brush your hair throughout the day and in between each row to prevent matting or tangling. Be mindful of both your brushing technique and how often you brush. Always have one hand on the attachment point and carefully brush with the other hand, starting at the ends and working up the hair shaft. Keep pressure on the base of the row to prevent tugging or pulling and avoid dragging the brush through the weft line.
DRYING: After cleansing your hair, make sure to dry your extensions. Gently squeeze the excess water out of your hair with a towel. Apply a leave-in conditioner to detangle, then use a blow dryer to focus on the top of your row(s) at the weft line to avoid moisture retention. This also applies after activities that cause sweating or take place in humid conditions—such as the gym, steam rooms, and saunas. Do not dry your hair upside down.
STYLING: Extensions can be styled with heat tools just like your natural hair. When applying heat, always use a heat protectant. Set your heat tool to the lowest effective setting (under 320 degrees) to protect your extensions from drying and discoloration. Use an oil or serum daily to help keep your extension hair hydrated, soft, and manageable. Avoid tinted oils as they will tarnish your blonde extensions.
SLEEPING: Never go to sleep with wet or damp extensions as it can cause matting, tangling, and swelling at the weft line. Before going to bed, always put your hair in a braid, low pony, or top knot to gently contain your extension hair and prevent tangles. Sleep on a silk pillowcase to help keep your hair manageable and frizz-free.
SWIMMING:

Headed to the lake, ocean, or pool? Chlorine and saltwater can cause severe dehydration and moisture loss in hair extensions. If you are going swimming, prep your extensions by rinsing your hair with tap water then generously apply a leave-in conditioner. Secure wet hair in a ponytail and braid tightly to avoid tangling. Rinse your hair immediately after then thoroughly dry. To keep your extensions safe in the sun, avoid sunscreens that contain 'avobenzone' as it can discolor your extensions. We recommend using a mineral sunscreen, such as Goldie Locks® Sheer Mineral Sunscreen.